Page 1 of Shameless Plug For A Book What I Wrote

Shameless Plug For A Book What I Wrote
Mark Oates

(Reviewer)

posted this on

Monday, 14th December 2020, 01:29
Hullo, gang.  Long time, no write.  I've been off being a carer, book-dealer and carer again, and my latest enterprise is writing a novel with my good friend Owen.  It's a full-length, cosy mystery-comedy in the Clue/ Cat and the Canary/ Old Dark House sort of vein.  Curse of the House of Sinister is available on Kindle with Kindle Unlimited, or can be bought for £4.99 in ebook form.  It's also available for £14.99 in paperback.

Please support an impecunious author who hasn't got any money either.

https://www.amazon.co.uk/gp/product/B08PSHKWYX?pf_rd_r=VA6KF3422HW51Q4G8CM8&pf_rd_p=6e878984-68d5-4fd2-b7b3-7bc79d9c8b60&tag=myrev09-21

Leave a review.  Bless you all.

J Mark Oates

---
It`s Grand To Be Daft
sprockethole.myreviewer.com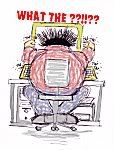 RE: Shameless Plug For A Book What I Wrote
mbilko

(Elite)

posted this on

Monday, 14th December 2020, 01:50
cat and the canary is one of my all time favourite movies so count me in :)

RE: Shameless Plug For A Book What I Wrote
marksparks999

(Elite)

posted this on

Monday, 14th December 2020, 17:02
Are you going to be as famous as JK Rowling, she wrote some wizard type book that i have never read.  Will you sign it, and can i sell it for £1squillion in a few years?

Good luck with sales...

RE: Shameless Plug For A Book What I Wrote
bandicoot

(Elite)

posted this on

Monday, 14th December 2020, 21:50
She made that much money it was embarrassing, but she was fly enough to go further than a trilogy and instead went for a seven whats-a-muggle's set of books.

Mind you, good on her mate, she has given a lot away to charities over the years. Maybe hoping for a title before her name.

And that's the trouble with book writers, a few make it real big and the majority have to just keep their day jobs. Just like music and the arts, its hard breaking into the industry and then making money of it.