Page 2 of Post Trump fallout

RE: Post Trump fallout
Pete-MK

(Elite Donator)

posted this on

Friday, 12th February 2021, 15:52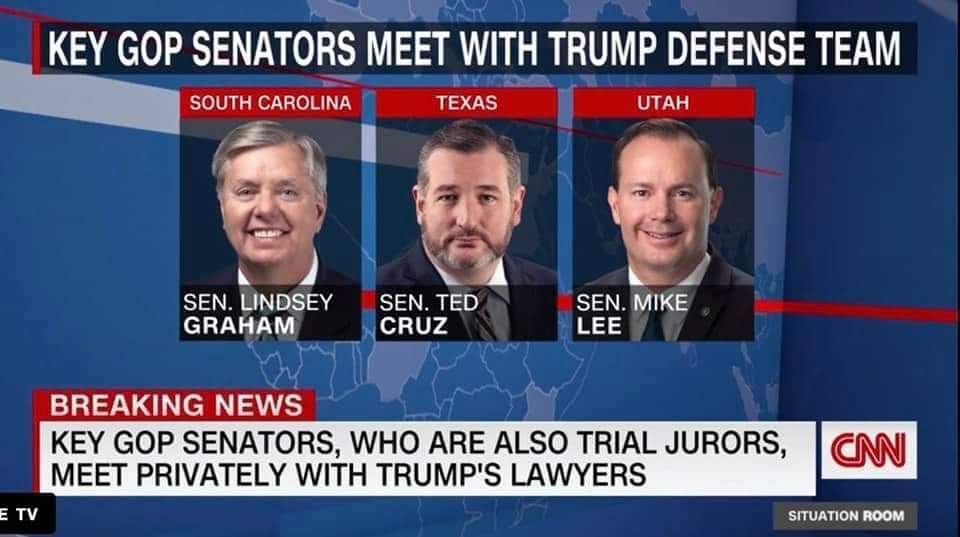 I don't care if an Impeachment isn't bound by the same rules as a conventional court case. This is a glaring conflict of interest & they should be disqualified immediately.
============================
Writer`s Release

RE: Post Trump fallout
Si Wooldridge

(Reviewer)

posted this on

Friday, 12th February 2021, 16:26
Past caring about conflicts of interest now from any of the hypocrites involved on either side of the aisle...

---------

Si Wooldridge
Reviewer



http://synth.myreviewer.com

RE: Post Trump fallout
Pete-MK

(Elite Donator)

posted this on

Friday, 12th February 2021, 16:38

RE: Post Trump fallout
Si Wooldridge

(Reviewer)

posted this on

Friday, 12th February 2021, 20:01
Quote:
Pete-MK says...
"(comparative citation needed)"
Whataboutism...

---------

Si Wooldridge
Reviewer



http://synth.myreviewer.com

RE: Post Trump fallout
Pete-MK

(Elite Donator)

posted this on

Sunday, 14th February 2021, 16:46
Quote:
Si Wooldridge says...
"Whataboutism..."
Quote:
Si Wooldridge says...
" hypocrites involved on either side of the aisle... "
You said it



============================
Writer`s Release

RE: Post Trump fallout
Pete-MK

(Elite Donator)

posted this on

Sunday, 14th February 2021, 16:51
So, Trump is aquitted, but on a technicality. After the aquittal, hypocrote McConnell makes a grand speech about how guilty Trump was, and that he most certainly did invoke the insurrection, and incite the mob to violence, but he couldn;t be convicted because he wasn't a sitting President when the impeachment was held

But the articles of Impeachment were brought before McConnell on the 15th, and he refused to accept them because he himself had shut down the senate as it was 'so close to the inauguration'.

Supreme Justice Barrett was confirmed in less time.


============================
Writer`s Release

RE: Post Trump fallout
Si Wooldridge

(Reviewer)

posted this on

Sunday, 14th February 2021, 17:03
Quote:
Pete-MK says...
"You said it"
I did, and I stand by that...

---------

Si Wooldridge
Reviewer



http://synth.myreviewer.com

RE: Post Trump fallout
Jitendar Canth

(Reviewer)

posted this on

Sunday, 14th February 2021, 17:13

RE: Post Trump fallout
Si Wooldridge

(Reviewer)

posted this on

Sunday, 14th February 2021, 18:31
Quote:
Jitendar Canth says...
"US Democracy is fragile says Biden..."
He has a plan though, right?

He said he was going to unify the country...

---------

Si Wooldridge
Reviewer



http://synth.myreviewer.com

RE: Post Trump fallout
Jitendar Canth

(Reviewer)

posted this on

Sunday, 14th February 2021, 18:33
Quote:
Si Wooldridge says...
"He has a plan though, right?

He said he was going to unify the country..."
You can't unify that which doesn't want to be united.


===========================
Jitendar Canth

Quote:
"I thought what I`d do was, I`d pretend I was one of those deaf-mutes."

Site Reviewer at DVD Reviewer & MyReviewer

Carving out a niche with a pneumatic drill at Anime @ MyReviewer.com