WWE Best of Summerslam Classics
Click to read: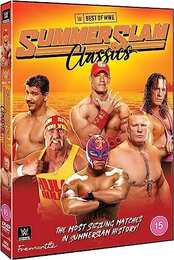 Certificate: 15
Running Time: 199 Mins
Retail Price: £9.99
Release Date: 24/07/2023
Content Type: TV Series
Synopsis:
The Biggest Event of the Summer hosts some of WWE's greatest matches ever.
This collection of SummersSlam's classic showdowns spans more that 30 years, from The Mega Powers' tag team clash against The Mega Bucks to John Cena's epic battle with Roman Reigns.

Features Seven of the Best matches from Summerslam's hot history in one place for you to enjoy!
Special Features:
Matches:

Summerslam 1988
The MegaPowers (Hulk Hogan and Macho Man Randy Savage) vs. The Megabucks (Million Dollar Man Ted Dibiase and Andre the Giant) with Jesse The Body Ventura as Special Guest Referee

Summerslam 1991
Intercontinental Championship
Mr Perfect vs. Bret The Hitman Hart

Summerslam 1996
Boiler room Brawl
Mankind vs. The Undertaker

Summerslam 2005
Ladder Match for Custody of Dominik Mysterio
Eddie Guerrero vs. Rey Mysterio

Summerslam 2007
WWE Championship
John Cena vs. Randy Orton

Summerslam 2014
WWE World Heavyweight Championship
John Cena vs. Brock Lesnar

Summerslam 2021
Undisputed WWE Universal Championship
John Cena vs. Roman Reigns

Related Websites:
https://wwedvd.co.uk/wrestling/wwe-best-of-summerslam-classics-pre-order-dvd/

Distributor:
Fremantle Home Entertainment