WWE: Best Of Money In The Bank
Click to read: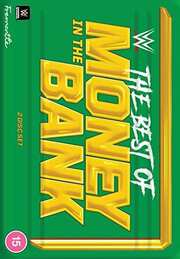 Certificate: 15
Running Time: 369 Mins
Retail Price: £12.99
Release Date: 12/06/2023
Content Type: TV Series
Synopsis:
The reward has always been worth the risk in a Money in the Bank Ladder Match. Multiple Superstars enter, but only one leaves with the Money in the Bank Briefcase, a prize that guarantees the winner a shot at a WWE Championship anytime they want.

Now, you can cash in and experience the most incredible Money in the Bank Matches in WWE history with this comprehensive collection from WWE Home Video.

FEATURING 13 OF THE MOST SPECTACULAR MONEY IN THE BANK MATCHES!

Featuring the likes of Randy Orton, Rey Mysterio, Asuka, CM Punk, Chris Jericho, Cody Rhodes, Becky Lynch, Charlotte Flair, AJ Styles, Drew McIntyre and much more!
Special Features:
Money in the Bank Ladder Match
Mr. Kennedy vs. Edge vs. CM Punk vs. King Booker vs. Jeff Hardy vs. Matt Hardy vs. Finlay vs. Randy Orton
WrestleMania 23 • April 1, 2007

RAW Money in the Bank Ladder Match
The Miz vs. Edge vs. Randy Orton vs. Chris Jericho vs. Evan Bourne vs. Ted DiBiase vs. John Morrison vs. Mark Henry
Money in the Bank • July 18, 2010

World Title Money in the Bank Ladder Match
John Cena vs. The Big Show vs. The Miz vs. Kane vs. Chris Jericho
Money in the Bank • July 15, 2012

Money in the Bank Ladder Match
Seth Rollins vs. Rob Van Dam vs. Jack Swagger vs. Dolph Ziggler vs. Kofi Kingston vs. Dean Ambrose
Money in the Bank • June 29, 2014

Money in the Bank Ladder Match
Dean Ambrose vs. Sami Zayn vs. Cesaro vs. Chris Jericho vs. Kevin Owens vs. Alberto Del Rio
Money in the Bank • June 19, 2016

Women's Money in the Bank Ladder Match
Alexa Bliss vs. Ember Moon vs. Charlotte Flair vs. Becky Lynch vs. Natalya vs. Lana vs. Naomi vs. Sasha Banks
Money in the Bank • June 17, 2018

Women's Money in the Bank Ladder Match
Bayley vs. Natalya vs. Dana Brooke vs. Naomi vs. Nikki Cross vs. Mandy Rose vs. Ember Moon vs. Carmella
Money in the Bank • May 19, 2019

Money in the Bank Ladder Match
Rob Van Dam vs. Bobby Lashley vs. Finlay vs. Matt Hardy vs. Ric Flair vs. Shelton Benjamin
WrestleMania 22 • April 2, 2006

SmackDown Money in the Bank Ladder Match
Daniel Bryan vs. Cody Rhodes vs. Heath Slater vs. Justin Gabriel vs. Kane vs. Sin Cara vs. Sheamus vs. Wade Barrett
Money in the Bank • July 17, 2011

Men's Money in the Bank Ladder Match
Baron Corbin vs. AJ Styles vs. Dolph Ziggler vs. Kevin Owens vs. Sami Zayn vs. Shinsuke Nakamura
Money in the Bank • June 18, 2017

Women's Money in the Bank Ladder Match
Becky Lynch vs. Charlotte Flair vs. Carmella vs. Tamina vs. Natalya
SmackDown • June 27, 2017

Money in the Bank Ladder Match
Brock Lesnar (with Paul Heyman) vs. Ali vs. Andrade vs. Baron Corbin vs. Drew McIntyre vs. Finn Bálor, Randy Orton vs. Ricochet
Money in the Bank • May 19, 2019

Simultaneous Men's & Women's Money in the Bank Ladder Matches
Women's: Asuka vs. Carmella vs. Dana Brooke vs. Lacey Evans vs. Nia Jax vs. Shayna Baszler

Men's: Otis vs. AJ Styles vs. Aleister Black vs. Daniel Bryan vs. King Corbin vs. Rey Mysterio
Money in the Bank • May 10, 2020

Related Websites:
https://wwedvd.co.uk/wrestling/wwe-best-of-money-in-the-bank-pre-order-dvd/

Distributor:
Fremantle Home Entertainment