WWE Ruthless Aggression Vol 1
Click to read: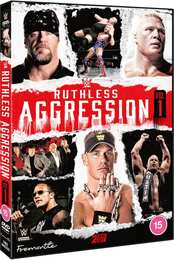 Certificate: 15
Running Time: 260 Mins
Retail Price: £15.99
Release Date: 16/11/2020
Content Type: TV Series
Synopsis:
From the ashes of the Monday Night War, a new era is born – Ruthless Aggression. This 2-disc DVD set collects all five episodes of WWE's documentary series on the history-making era that created John Cena, Batista, Brock Lesnar, Randy Orton, and many more.

For the first time ever on DVD, hear the true stories from those who lived it, and witness the emergence of an entire new generation of Superstars, who would change WWE forever!
Special Features:
S1 E1: It's Time to Shake Things Up: From the ashes of the Monday Night War, a new era is born Ruthless Aggression. For the first time ever, hear the true stories from those who lived it, and witness the emergence of an entire new generation of Superstars, who would change WWE forever.

S1 E2: Enter John Cena: With Vince McMahon's declaration of Ruthless Aggression to the entire WWE locker room, a rookie Superstar attempts to grab the brass ring and shake things up. Enter John Cena. Featuring brand-new, never-before-heard commentary from The Dr. of Thuganomics himself.

S1 E3: Evolution: As The Ruthless Aggression Era dawned, Triple H pushed forward the Evolution of sports-entertainment with Ric Flair, Randy Orton & Batista. Relive the formation and triumphs of the group that launched and revitalized the careers of its members and dominated WWE in the early-2000s.

S1 E4: The Next Big Thing: Seeking 'The Next Big Thing,' WWE finds Brock Lesnar. He becomes an in-ring monster and a master of Ruthless Aggression behind the scenes. Relive Lesnar's rise to the top, rivalries with The Rock and Hulk Hogan and his decision to depart WWE for eight years.

S1 E5: Civil War: Raw vs. SmackDown: WWE's first-ever brand extension divides its roster and sparks civil war between RAW and SmackDown. As competition heats up between brands, Eddie Guerrero, JBL, Edge and others showcase Ruthless Aggression as they capitalize on their newfound opportunity to become stars.

SPECIAL FEATURES:

RAW 24th June 2002 - The Birth of Ruthless Aggression

Season 1 Teaser

Season 1 Trailer

Season 2 Trailer

Evolution at WrestleMania 21 - Extended Cut

Evolution - Alternate Ending

Related Websites:
https://wwedvd.co.uk/wrestling/wwe-ruthless-aggression-dvd/

Distributor:
Fremantle Home Entertainment