Buffy Complete Season 1-7 - 20th Anniversary Edition
Click to read: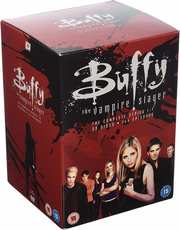 The complete Buffy the Vampire Slayer TV series
Certificate: 15
Running Time: 6079 mins
Retail Price: £34.99
Release Date: 2017
Content Type: TV Series
Synopsis:
The teen years can be brutal. Especially when you're Buffy Summers (Sarah Michelle Gellar) - a Sunnydale High School student destined to slay supernatural, blood-sucking baddies instead of hanging out at the mall. Over the seven seasons of this thrilling, witty show, Buffy struggles to maintain allies in the fight against evil, while also engaging in on-off romances with a moody vampire (David Boreanaz) or two (James Marsters). Now you can own this 39-disc set containing all 144 episodes of one of the smartest, funniest, most action-packed series ever to slay on the small screen - also starring Alyson Hannigan, Anthony Head and Nicholas Brendon.
Special Features:
Cast and crew commentaries
Featurettes
Outtakes
Easter eggs
Trailers
Cast biographies
Photo galleries
Episode Scripts
""Karaoke"" sing alongs

Video Tracks:
Widescreen Anamorphic 1.78:1
Regular 4:3

Audio Tracks:
Dolby Digital 2.0 Surround English
Dolby Digital 2.0 Surround French

Subtitle Tracks:
English
French
Dutch
Swedish
Norwegian
Finnish
Danish

Written By:
Joss Whedon

Starring:
David Boreanaz
Anthony Head
Alyson Hannigan
Nicholas Brendon
Sarah Michelle Gellar

Casting By:
Marcia Shulman

Soundtrack By:
Sean Murray
Walter Murphy
Nerf Herder
Shawn K. Clement
Christophe Beck

Director of Photography:
Michael Gershman

Editor:
Skip Schoolnik
Geoffrey Rowland
Kimberly Ray
Skip MacDonald
Regis Kimble

Costume Designer:
Susanna Puisto
Eileen A. Dunn
Cynthia Bergstrom

Production Designer:
Carey Meyer
Steve Hardie

Distributor:
Twentieth Century Fox