Little Monsters
Click to read: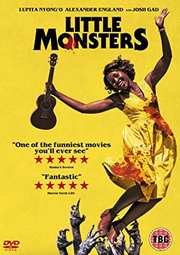 Certificate: 15
Running Time: 94 Mins
Retail Price: £10.99
Release Date: 10/02/2020
Content Type: Movie
Synopsis:
When an opportunity arises to chaperone a school excursion alongside the charming and enigmatic teacher, Miss Caroline (Lupita Nyong'o), directionless slacker Dave (Alexander England) jumps at the chance to impress her. What wasn't on the itinerary was obnoxious children's television host Teddy McGiggle (Josh Gad) and a zombie invasion after experiments at a nearby military base go awry.

Together the trio must keep their heads together, don't freak out the kids and fight their way to safety with their guts intact.
Special Features:


Related Websites:
http://www.altitudefilment.com/

Directed By:
Abe Forsythe

Written By:
Abe Forsythe

Starring:
Josh Gad
Lupita Nyong'o
Alexander England

Distributor:
Altitude Film Distribution