Naruto Shippuden: Box Set 35 (2 Discs)
Click to read: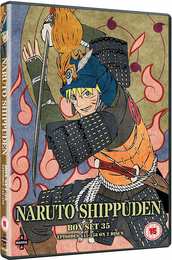 The Fourth Ninja War continues...
Certificate: 15
Running Time: 329 mins
Retail Price: £24.99
Release Date: 2019
Content Type: TV Series
Synopsis:
Events within the dreamworld of the Infinite Tsukuyomi continue to play out - except for Naruto's team which had escaped the illusion with the help of Sasuke's protective Susano'o! Sasuke learns, through Itachi's Sharingan, of past events that had affected his brother deeply. But what does Itachi's past have to do with the current struggle? Back on the battlefield of the Fourth Great Ninja War, Naruto and the others fight Madara, and just as he is declaring his victory, something unexpected occurs...

Contains episodes 445-458.
Special Features:
Trailers
Storyboards
Production Art

Video Tracks:
1.78:1 anamorphic widescreen

Audio Tracks:
Dolby Digital Stereo 2.0 Japanese
Dolby Digital Stereo 2.0 English

Subtitle Tracks:
English

Directed By:
Hayato Date

Written By:
Junki Takegami
Masahiro Hikokubo
Satoru Nishizono
Shin Yoshida
Toshiyuki Tsuru
Yasuaki Kurotsu
Yasuyuki Suzuki
Yuka Miyata
Masashi Kishimoto

Starring:
Chie Nakamura
Junko Takeuchi
Noriaki Sugiyama
Akira Ishida
Hideo Ishikawa
Houchu Ohtsuka
Kazuhiko Inoue
Masako Katsuki
Nana Mizuki
Romi Park
Yoichi Masukawa
Kate Higgins
Maile Flanagan
Yuri Lowenthal
Brian Donovan
Crispin Freeman
Dave Wittenberg
David Lodge
Debi Mae West
Liam O'Brien

Music From:
Yasuharu Takanashi

Director of Photography:
Atsuho Matsumoto

Distributor:
Manga Entertainment