King of Thieves
Click to read: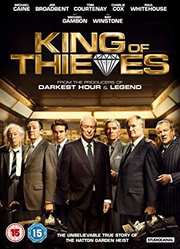 Certificate: 15
Running Time:
Retail Price: £9.99
Release Date: 21/01/2019
Content Type: Movie
Synopsis:
Michael Caine stars in this British crime drama directed by James Marsh. A group of retired crooks come together to rob an underground safe deposit facility in London's Hatton Garden jewellery quarter. The gang break into the vault over the Easter holiday weekend and get away with over £200 million worth of stolen goods. However, as the police start to close in, cracks begin to show among the group as they become increasingly suspicious of each other and their plans to split the money.

Humorously told through career best performances from a stellar cast; Sir Michael Caine (DUNKIRK, KINGSMAN), Jim Broadbent (SENSE OF AN ENDING, MOULIN ROUGE), Ray Winstone (THE DEPARTED, COLD MOUNTAIN), Michael Gambon (KING'S SPEECH, HARRY POTTER), Tom Courtenay (GUERNSEY LITERARY AND POTATO PEEL PIE SOCIETY, GAMBIT) and Charlie Cox (THEORY OF EVERYTHING, STARDUST). KING OF THIEVES is written by Joe Penhall (THE ROAD, MINDHUNTER), directed by Academy Award winner James Marsh (MAN ON WIRE, THEORY OF EVERYTHING) and produced by BAFTA winning and Academy Award nominees Tim Bevan and Eric Fellner (THEORY OF EVERYTHING, LES MISERABLES), alongside Ali Jaafar (THE IDOL) and Michelle Wright (7 DAYS IN ENTEBBE).
Special Features:
Deleted Scenes

Bringing The Ensemble Together

Michael Caine interview

Featurette

Trailer

Related Websites:
http://www.studiocanal.co.uk/Film/Details/4ed0dd8c-ddd2-4901-81c9-a94500b3c5ed

Directed By:
James Marsh

Starring:
Michael Caine, Jim Broadbent, Tom Courtenay, Charlie Cox, Paul Whitehouse, Michael Gambon, Ray Winstone

Producer:
Tim Bevan, Eric Fellner, Michelle Wright, Ali Jaafar, Amelia Granger

Distributor:
STUDIOCANAL Ltd