Naruto Shippuden: Box Set 34 (2 Discs)
Click to read: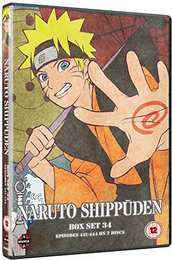 The Fourth Ninja War continues...
Certificate: 12
Running Time: 330 mins
Retail Price: £24.99
Release Date: 2018
Content Type: TV Series
Synopsis:
The Fourth Great Ninja War rages on and the Allied Shinobi Forces are fighting a threat that can't be punched! All shinobi except Naruto's team have been caught in the eye of the Infinite Tsukuyomi, a stunning genjutsu technique, which uses a target's own chakra to trap them in an illusion of their own making. Some, like Karin, relive their own pasts, while Tsunade reads from Jiraiya's final novel in her dream—a considerably different account of Naruto's life, where his parents are still alive and the young Leaf Village Genin have to prove themselves as shinobi when they face off against a major foe a lot earlier than expected!

Contains episodes 431-444.
Special Features:
Trailers
Storyboards
Production Art

Video Tracks:
1.78:1 anamorphic widescreen

Audio Tracks:
Dolby Digital Stereo 2.0 Japanese
Dolby Digital Stereo 2.0 English

Subtitle Tracks:
English

Directed By:
Hayato Date

Written By:
Junki Takegami
Masahiro Hikokubo
Satoru Nishizono
Shin Yoshida
Toshiyuki Tsuru
Yasuaki Kurotsu
Yasuyuki Suzuki
Yuka Miyata
Masashi Kishimoto

Starring:
Chie Nakamura
Junko Takeuchi
Noriaki Sugiyama
Akira Ishida
Hideo Ishikawa
Houchu Ohtsuka
Kazuhiko Inoue
Masako Katsuki
Nana Mizuki
Romi Park
Yoichi Masukawa
Kate Higgins
Maile Flanagan
Yuri Lowenthal
Brian Donovan
Crispin Freeman
Dave Wittenberg
David Lodge
Debi Mae West
Liam O'Brien

Music From:
Yasuharu Takanashi

Director of Photography:
Atsuho Matsumoto

Distributor:
Manga Entertainment