Review for Our Day Out - A BBC Play of the Week
Those lovely folks at Simply Media, the distribution label 'focused on the over 50's demographic', have released three films from BBC's Play for Today series on DVD; Our Day Out, The Imitation Game and The Fishing Party.
'Play for Today' ran on the BBC from 1970 to 1974 and showcased some great writing and directing talent, as well as introducing some fine actors. Whilst some of the very best of these have already seen the light of day on DVD (Abigail's Party and Boys from the Blackstuff) this is the first time that these particular episodes have seen the light of day since their original release.
'One Day Out' is a gem. Running for a mere 70 minutes it's not only a highly thought-provoking, and occasionally comedic drama, but it's a wonderful time capsule for those of use who either saw it first time around or who attended a comprehensive school somewhat like the one featured. Quite apart from the nostalgia of the clothing and hairstyles, both pupils and teachers represent types that feel highly familiar too.
Penned by Willy Russell (a dramatist, lyricist and composer best known for works like 'Educating Rita', 'Shirly Valentine' and 'Blood Brothers'), 'Our Day Out' first aired at 9pm on 28 December, 1977 on BBC2. It proved to be such a hit that it has aired several times since; most recently in 2008 when Liverpool was 'City of Culture'. Russell later turned it into a stage musical, though it's hard to imagine how that worked.
It's the tale of a group of teenagers from a rough, inner city comprehensive secondary school in Liverpool who are taken on a rare outing out of the city, to Conwy Castle in Wales, with some anarchic stops along the way at a café, a zoo, the beach and finally a funfair; with the castle itself providing little more than an excuse for the trip and a place to run around.
When teacher and grumpy disciplinarian Mr. Briggs (played brilliantly by Alun Armstrong, 'Get Carter') arrives at the school and sees the bus at the gates, he takes it on himself to go along on the trip to save the school's reputation and hopefully bring some decorum to events. A previous trip had ended badly with dozens of complaints about the pupil's behaviour and he's determined that it won't happen again.
By stark contrast, Mrs. Kay (Jean Heywood – Billy Elliot) is determined to just let the kids have a good time and a brief respite from their depressing lives. A couple of other teachers seem to sit somewhere between the two.
As soon as the trip starts, some of the pupil's do whatever they can to undermine the authority of the teachers. Some by not wearing uniform and others by blatantly smoking at the back of the bus.
As soon as they disembark at a motorway café, the kids refuse to line up properly and by the time they have left the sweet shop, it's apparent that they have pilfered much of the stock. Stopping at a zoo seems a bad idea, though Mr. Briggs has to concede that some of the kids seem genuinely interested in the animals. So interested in fact, that a dozen are stolen and held under coats until the coach is boarded by zoo staff who claim the animals back. Whilst Mrs. Kay can barely supress a smile, Mr. Briggs is incandescent with rage and shouts his thoughts about trust, and lack of it, until he is red in the face. He is also determined to report on his findings as soon as they return home.
The castle visit is predictably undisciplined and a stop-off at the beach just about sends poor Mr. Briggs over the edge. It's not until a missing girl threatens to throw herself off a cliff-edge rather than return home, that he has a change of heart. She tells him that he doesn't care about the her or any of the kids and he lets down his ferocious facade to show a caring side that sees her backing down and taking his hand.
It's a pivotal moment and it's then Mr. Briggs suggestion that they all now visit a funfair, something Mrs. Kay and co can scarcely believe but which they embrace fully.
On their eventual return, she leaves a roll of film with him to develop which has some pictures of the day, though as soon as the other teachers leave to go for a drink together, which he has declined, he exposes the film and drives off, ignoring the young girl he rescued as he passes. In short, nothing has changed.
The whole play was filmed on location on 16mm film across three weeks with, for the most part, completely untrained child actors. Directed by a then youthful Pedr James (
Our Friends in the North
) the play apparently draws very much on draws on Willy Russell's own experiences of school trips as both a pupil and eventually, a teacher.
Russell says of it
: 'I still watch it today. The performances are exquisite. Shot on 16mm in just three weeks by a first time director working with a largely untrained cast it just seemed to be one of those charmed ventures in which everything just fell into place. A great bonus, for me, is the understated but stunning Nic Jones version of Teddy Bears Picnic over the final credits.'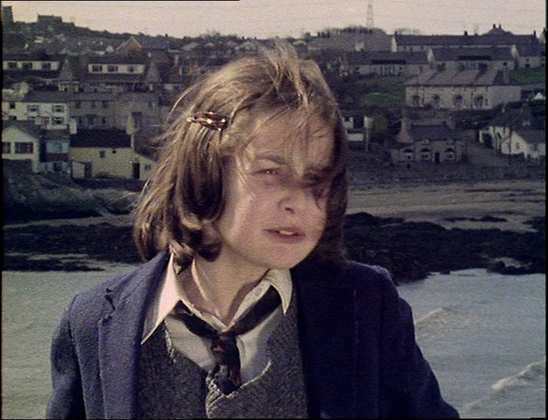 The film shows its age a little; 16mm tends to look a little grainy by today's standards, but nonetheless, it has held up remarkably well. There are no extra features, which does feel like an opportunity lost, though I'm guessing predicted unit sales won't be high. It's also a shame that the disc contains just one play, which feels a bit slight in this day and age.
That said, I'm grateful that material like this gets released at all.
A really fun, nostalgic and thought-provoking watch and highly recommended.