Death Note 2: The Last Name
Click to read: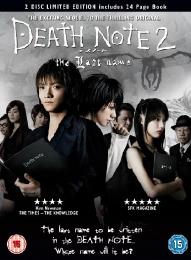 The last name to be written in the Death Note... Whose name will it be?
Certificate: 12
Running Time: 135 mins
Retail Price: £19.99
Release Date: 2008
Content Type: Movie
Synopsis:
Light and L's psychological duel enters a new phase; whoever is careless for even a split second will lose! To complicate things further, Rem, another shinigami brings the second notebook and Misa Amane, a Japanese pop star and Kira worshipper, comes into possession of it.

Now becoming a Kira herself, she accepts an offer to have the Eyes of the Death. With the Eyes of the Death one can know the name of any person without being told. Misa and Light begin to work together to find the true name of L...
Special Features:
24 Page book
Trailer
Making of Death Note: The Last Name
Production Diary Video
Death Note Press Conference
Original Japanese Trailers
Image Gallery

Related Websites:
http://www.4digitalmedia.com/

Video Tracks:
1.85:1 anamorphic widescreen

Audio Tracks:
Dolby Digital Surround 5.1 Japanese
Dolby Digital Stereo 2.0 Japanese

Subtitle Tracks:
English

Directed By:
Shusuke Kaneko

Written By:
Tsugumi Ôba
Takeshi Obata
Tetsuya Oishi

Starring:
Tatsuya Fujiwara
Kenichi Matsuyama
Shigeki Hosokawa
Erika Toda
Shinnosuke Ikehata
Nana Katase
Shunji Fujimura
Takeshi Kaga
Shido Nakamura

Music From:
Kenji Kawai
Red Hot Chili Peppers

Director of Photography:
Kenji Takama

Editor:
Yousuke Yafune

Producer:
Toyoharu Fukuda
Takahiro Sato

Executive Producer:
Seiji Okuda

Distributor:
4Digital Asia