Adoption After A Biological Child
Click to read: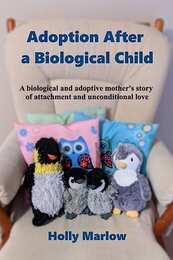 Authors:
Holly Marlow

Retail Price (Hardback): Retail Price (Softback):
£11.99
Retail Price (Ebook):
£8.99
ISBN:
978-1739916862
First Published:
17/06/2023
Related Websites:
https://hollymarlow.com/

Description:
From the author of award-winning children's story books, Delly Duck, Room in the Nest, and other adoption and fostering children's stories, comes an emotional and informative account of the unique challenges and joys of adopting after having a biological child.

When Holly and Jon Marlow decided to adopt from foster care, they wondered how much having a child already would affect the adoption process, and how the process would affect their daughter. With warmth and vulnerability, Holly shares her personal experiences, delving into the approval and matching process, introductions, attachment issues, therapeutic life story work and contact with her son's birth family.