Review for Blueprint for a Battlestar
Introduction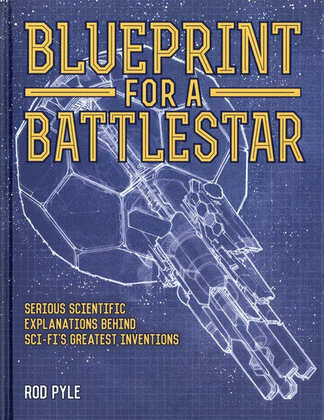 They say that you should never judge a book by its cover, which makes little sense when most of the traditional bookshops have closed, and when you go to buy a book online, a cover and little more than a blurb is all that you have to go on. A book called Blueprint for a Battlestar will grab my attention straight away, and the following description...
Quote:
Modern digital technology has seen gadgets predicted by early science fiction – such as videophones – become reality, and a host of ideas proposed in more recent productions, such as the Star Trek series, offer intriguing possibilities for the future. From the Terminator to the Death Star, this book investigates some of the most celebrated concepts of recent science fiction and explores the potential technology behind them, revealing that some are closer to reality than we might think.
... would have me reaching for my wallet. Any sci-fi fan worth their salt will have encountered plenty of fantastic concepts on screen or in print, enough to tantalise and provoke thought, and have us asking questions like "when are we going to get flying cars?" This book by Rod Pyle takes a look at 25 sci-fi concepts and tropes through the lens of 21st century scientific and engineering knowledge, and discusses just how close they are to being realised. Something like the Death Star might be unlikely to say the least, but ray guns and shields, artificial intelligence and robots, hoverboards and genetic engineering might be closer than you'd expect, and might even already be here.
The Format
Blueprint for a Battlestar is a hardcover book with 192 pages (including one foldout page), printed by Aurum Press in 2016. Decent sized print on high quality glossy paper makes for a pleasant coffee table book (252x195mm) presentation, while any art work follows the 'blueprint' conceit of the title.
Conclusion
Well, that was a waste of time and money. Blueprint for a Battlestar is a complete disappointment, failing to meet any of the expectations engendered by its title or the promotional blurb that sold it to me. It's not that well written, only perfunctorily researched, and doesn't really do what it sets out to. It also opts for sensationalism over scientific rigour, and feels more pseudo fantasy than speculative non-fiction.
The first issue is that title and the associated blurb, which might make you think that it will be referencing and directly discussing science fiction concepts and the films, TV shows and books that introduced them. The thing is that all those concepts have rights issues associated with them, and the publishers were quite unwilling to spend any money in that department. There are no film stills or direct references to gizmos and gadgets that you have seen on screen. The author can't even use the term, 'lightsaber' and instead uses "light sword" through that particular chapter. The very idea that drew me to this book isn't addressed in the pages within.
So no imagery, and no direct references, but that does leave the concepts and ideas behind warp drive and death stars, hoverboards and artificial intelligence. If you can't talk about trademarked and copyrighted content, you can at least make the connections that will resonate with any self-respecting sci-fi fan. Only when you read the articles, and find so many fundamental errors, you will come to the realisation that the author hasn't seen too many of the films and TV shows he's referencing. In Star Trek, phasers aren't frequently set to kill, Data is an android and not a cyborg, and Star Wars ships don't use warp drive. That's on top of the basic typos littering the text, errors that a basic spell-check would have picked up.
That leaves the actual content. Drop the premise behind the book, the connection between real world science to sci-fi concepts, and just look at the science alone. There is hardly any rigour to the articles in the book, and what there are, are plenty of anecdotal references to real world experiments and prototypes. But there's not much in the way of detail, and the way that things are written, it all leans towards sensationalism, to try and make you think that these inventions are just around the corner. The Jurassic Park chapter is a case in point; the author writes about an experiment where chickens were de-evolved to the point that their beaks became snouts. It leaves with the impression that there are dino-chickens running around a lab somewhere. Google revealed this to be untrue; the book fails to mention that these experiments took place and concluded at the embryo stage, and no dino-chick hatched. This sort of looseness makes all the articles seem suspect.
Ultimately, that is the biggest disappointment with Blueprint for a Battlestar. These are subjects which have been explored in various articles online. Much of the content in the book can be found on the Internet somewhere, sensationalist content which connects to sci-fi is a big chunk of the clickbait articles that pass my view during my daily surf. I'm sad to say that I've read much of this content before. This book is mostly sensationalist guff with no scientific meat to its bones. It's the kind of nonsense that I lapped up when I was in primary school (Usborne Press had a line in futurist speculation that after 40 years is still more satisfying than this book). Blueprint for a Battlestar is clickbait in print form. Thankfully there are no ads to block.