Electric Dragon 80000V
Click to read: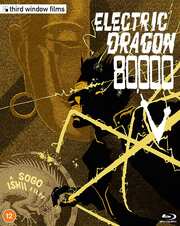 From Sogo Ishii, the director of Burst City and Crazy Thunder Road
Certificate: 12
Running Time: 55 mins
Retail Price: £29.99
Release Date: 2023
Content Type: Movie
Synopsis:
As a child, Dragon Eye Morrison undergoes electro-shock treatment for his aggressive behavior. The levels of sheer energy absorbed by his body over the years allow him to channel and conduct electricity. Now an adult, Morrison works in the city as a reptile investigator and has learned to channel his rage through the performance of aggressive guitar-based noise. Meanwhile, Thunderbolt Buddha, a TV repair man turned vigilante, who has the same electro-conductive powers after a childhood accident, goes after crime bosses and gangsters. When both men learn of each other's existence, Thunderbolt Buddha challenges Morrison to a final showdown on the rooftops of Tokyo.
Special Features:
• Director Sogo Ishii, musician Hiroyuki Onogawa and producer Takenori Sento Stage Greeting
• Tadanobu Asano Stage Greeting
• Masatoshi Nagase Stage Greeting
• Premiere Stage Greetings
• Producer Takenori Sento Interview
• Music Creator Hiroyuki Onogawa interview
• Synthesized Images with Commentary
• Storyboards
• Trailer

• Slipcase with illustrated artwork by Ian MacEwan
• Reversible Sleeve with original Japanese artwork
• Slipcase edition limited to 1500 copies

Video Tracks:
1.85:1 widescreen 1080p

Audio Tracks:
DTS-HD MA 5.1 Surround Japanese

Subtitle Tracks:
English

Directed By:
Gakuryû Ishii

Written By:
Gakuryû Ishii

Starring:
Tadanobu Asano
Masakatsu Funaki
Masatoshi Nagase

Music From:
Hiroyuki Onogawa

Director of Photography:
Norimichi Kasamatsu

Editor:
Shûichi Kakesu

Costume Designer:
Haruka Takahashi

Production Designer:
Toshihiro Isomi

Producer:
Takenori Sentô

Distributor:
Third Window Films