Revolutionary Girl Utena: Part 1 - Blu-ray Collector's Edition
Click to read: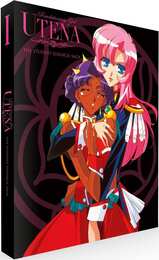 The Legendary Shojo Anime Series Comes to Blu-ray!
Certificate: 15
Running Time: 282 mins
Retail Price: £59.99
Release Date: 2020
Content Type: TV Series
Synopsis:
''Never lose that strength or nobility, even when you grow up.'' When Utena was just a child and in the depths of sorrow, she found salvation in those words. They were the words of a prince, who wrapped her in his rose-scented embrace and bestowed upon her both a ring and the promise that it would lead her to him again. She never forgot the encounter. In fact, she was so impressed that she aspired to be like the prince and also help those in need.

Now a spirited teenager, Utena attends the prestigious Ohtori Academy. However, her strong sense of chivalry soon places her at odds with the school's student council and thrusts her into a series of mysterious and dangerous duels against its members.
Special Features:
Includes episodes 1-12, "The Student Council Arc" with both English and Japanese with English subtitles viewing options.

Comes packed in a rigid case. Inside is an amaray case to hold the 3 Blu-ray discs. Also included inside is a poster (34x40cm) and 5 art cards.

On-disc extras: Opening and Ending title sequences, Japanese commercials and the Rondo - Revolution Music Video

Video Tracks:
1.33:1 pillarboxed 1080p

Audio Tracks:
PCM 5.1 Surround Japanese
PCM 2.0 Stereo Japanese
PCM 2.0 Stereo English

Subtitle Tracks:
English

Directed By:
Kunihiko Ikuhara

Written By:
Yoji Enokido
Be-PaPas
Chiho Saitō

Starring:
Tomoko Kawakami
Yuriko Fuchizaki
Aya Hisakawa
Chieko Honda
Kotono Mitsuishi
Takehito Koyasu
Takeshi Kusao
Yuka Imai
Rachael Lillis
Sharon Becker
Annie Pondel
Crispin Freeman
Jack Taylor
Jimmy Zoppi
Mandy Bonhomme
Roxanne Beck

Music From:
J. A. Seazer
Shinkichi Mitsumune

Director of Photography:
Toyomitsu Nakajo

Editor:
Shigeru Nishiyama

Producer:
Noriko Kobayashi
Shinichi Ikeda

Distributor:
All the Anime