Star Trek: The Motion Picture - The Director's Edition
Click to read: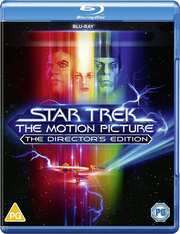 The human adventure is just beginning
Certificate: PG
Running Time: 137 mins
Retail Price: £22.99
Release Date: 2022
Content Type: Movie
Synopsis:
The U.S.S. Enterprise boldly debuted on the big screen with the cast of the original STAR TREK series, including William Shatner, Leonard Nimoy, DeForest Kelley, George Takei, Nichelle Nichols, Walter Koenig, and James Doohan. When an unidentified alien intruder destroys three powerful Klingon cruisers, Captain James T. Kirk returns to the helm of a newly transformed U.S.S. Enterprise to take command. Newly remastered from a 4K scan of the original film elements, this is the original theatrical cut of the acclaimed adventure, and features Jerry Goldsmith's rousing iconic overture.
Special Features:
The Human Adventure—An all-new 8-part documentary detailing how the Director's Edition came to life—NEW!
Preparing the Future – How the remastering began
A Wise Choice – The storied history of Robert Wise
Refitting the Enterprise – How the Enterprise design shaped future federation starships
Sounding Off – Exploring new dimensions of sound in Dolby Atmos
V'ger - The conception and restoration of an iconic alien antagonist
Return to Tomorrow – Reaching an already high bar with new CGI effects
A Grand Theme – Behind the iconic, influential music score that shaped the franchise's future
The Grand Vision – The legacy and evolving reputation of this classic movie
Deleted Scenes—NEW!
Effects Tests—NEW!
Costume Tests—NEW!
Computer Display Graphics—NEW!
Additional legacy bonus content

Video Tracks:
2.39:1 widescreen 1080p

Audio Tracks:
Dolby Atmos Surround English
Dolby Digital 5.1 Surround French
Dolby Digital 5.1 Surround German
Dolby Digital 5.1 Surround Spanish

Subtitle Tracks:
English
French
German
Spanish
Danish
Dutch
Finnish
Norwegian
Swedish

Directed By:
Robert Wise

Written By:
Gene Roddenberry
Harold Livingston
Alan Dean Foster

Starring:
Mark Lenard
Grace Lee Whitney
Stephen Collins
Persis Khambatta
Majel Barrett
Nichelle Nichols
Walter Koenig
George Takei
James Doohan
DeForest Kelley
Leonard Nimoy
William Shatner

Casting By:
Marvin Paige

Soundtrack By:
Jerry Goldsmith
Gerald Fried

Music From:
Alexander Courage

Director of Photography:
Richard H. Kline

Editor:
Todd C. Ramsay

Costume Designer:
Robert Fletcher

Production Designer:
Harold Michelson

Producer:
Gene Roddenberry
Jon Povill
David C. Fein

Distributor:
Paramount