Righting Wrongs - DELUXE COLLECTOR'S EDITION
Click to read: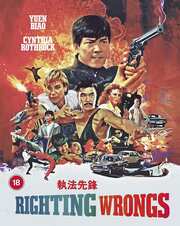 a.k.a. Above the Law
Certificate: 15
Running Time: 97 mins
Retail Price: £34.99
Release Date: 2022
Content Type: Movie
Synopsis:
Lawyer Ha Ling-Ching (Yuen Biao), fed up with the failings of the justice system and the way it allows criminals off the hook, vows to take the law into his own hands after a key witness and his entire family are murdered. However, his plans are soon complicated when he finds hotshot detective Cindy Sze (Cynthia Rothrock) on his tail.

Shot throughout with intrigue and action, this slick Hong Kong thriller rattles along magically in a satisfyingly explosive manner. In this DELUXE presentation, Righting Wrongs is a must for all serious collectors of martial arts mayhem.
Special Features:
Slipcase with brand-new artwork from Sean Longmore
Double-sided foldout Poster
6 Replica Lobby Cards
80-page perfect-bound book featuring exclusive interview with Karen Sheperd and new writing on the film by Matthew Edwards + selected archive materials
Reversible sleeve with original Hong Kong poster artwork

// DISC 1 //

[New] Frank Djeng Commentary [HK cut]
[Archive] Cynthia Rothrock Tai Seng Commentary [HK cut]
[New] Cynthia Rothrock Interview
[New] Cynthia Rothrock Scene-specific Commentary
[New] Peter Cunningham Interview
[New] Peter Cunningham Scene-specific Commentary
[Archive] The Vigilante: An Interview with Yuen Biao
[Archive] Action Overload: An Interview with Cynthia Rothrock
[Archive] From the Ring to the Silver Screen: An Interview with Peter Cunningham
Rare alternate "Ladies Man" ending
Hong Kong Trailer
English Trailer
Tai Seng Reconstruction Trailer

// DISC 2 //

[New] Mike Leeder and Arne Venema Commentary
ULTIMATE CUT a newly produced ULTIMATE CUT, a version of the film prepared exclusively for this release that combines footage from the Hong Kong and Singapore cuts to present a hypothetical "complete" version with four possible endings. [105 mins - 106 mins approx] with English subtitles*
Ultimate Cut Ending Randomiser

Video Tracks:
1.85:1 widescreen 1080p

Audio Tracks:
DTS-HD MA 5.1 Surround English
PCM 2.0 Mono Cantonese
DTS-HD MA 2.0 Mono English
DTS-HD MA 2.0 Mono Mandarin

Subtitle Tracks:
English

Directed By:
Corey Yuen

Written By:
Cheuk-Hon Szeto
Barry Wong

Starring:
Biao Yuen
Cynthia Rothrock
Melvin Wong
Roy Chiao

Music From:
Romeo Díaz

Director of Photography:
Moon-Tong Lau

Costume Designer:
Ginger Fung

Producer:
Biao Yuen
Corey Yuen

Executive Producer:
Pui-Wah Chan

Distributor:
88 Films