Batman Returns
Click to read: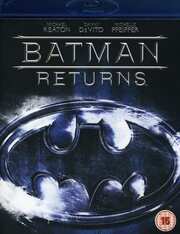 The Bat Is Back!
Certificate: 15
Running Time: 126 mins
Retail Price: £19.99
Release Date: 2008
Content Type: Movie
Synopsis:
Sequel to Tim Burton's hugely successful 'Batman' (1989). Oswald Cobblepot was abandoned by his parents as a baby. Thirty three years later, bent on revenge, he returns to Gotham City as the Penguin (Danny DeVito). First he begins a warped campaign to become Mayor, helped by millionaire businessman Max Shreck (Christopher Walken); next, he undertakes a mission to murder every first born son in Gotham - a plan which will avenge his own beginnings. Meanwhile, he has two adversaries to contend with: Catwoman (Michelle Pfeiffer), the embittered ex-secretary of Max Shreck, and, of course, the old caped crusader himself - Batman (Michael Keaton).
Special Features:
Commentary by Tim Burton
The Bat, the Cat and the Penguin
Shadows of the Bat Pt. 4: Dark Side of the Bat
Batman: The Heroes
Batman: The Villains
Beyond Batman –
- Gotham City Revisited: The Production Design of Batman Returns
- Sleek, Sexy and Sinister: The Costumes of Batman Begins
- Making-Up the Penguin
- Assembling the Arctic Army
- Bats, Mattes and Dark Nights: The Visual Effects of Batman
- Inside the Elfman Studio: The Music of Batman Returns
Music Video: Face to Face by Siouxsie and the Banshees
Theatrical Trailer

Video Tracks:
1.85:1 widescreen 1080p

Audio Tracks:
Dolby TrueHD 5.1 Surround ENglish
Dolby Digital 5.1 Surround English
Dolby Digital 5.1 Surround French
Dolby Digital 5.1 Surround German
Dolby Digital 5.1 Surround Italian
Dolvy DIgital 2.0 Stereo Spanish
Dolby Digital 1.0 Mono Spanish
Dolby Digital 1.0 Mono Portuguese

Subtitle Tracks:
English
French
German
Italian
Spanish
Portuguese
Chinese
Danish
Dutch
Finnish
Korean
Norwegian
Swedish

Directed By:
Tim Burton

Written By:
Sam Hamm
Daniel Waters
Bob Kane

Starring:
Michael Murphy
Michael Gough
Christopher Walken
Michelle Pfeiffer
Danny DeVito
Michael Keaton

Casting By:
Marion Dougherty

Soundtrack By:
Siouxsie and the Banshees
Siouxsie Sioux
Danny Elfman

Director of Photography:
Stefan Czapsky

Editor:
Chris Lebenzon
Bob Badami

Costume Designer:
Mary E. Vogt
Bob Ringwood

Production Designer:
Bo Welch

Producer:
Jenny Fulle
Larry J. Franco
Denise Di Novi
Tim Burton
Ian Bryce
Holly Borradaile

Executive Producer:
Michael E. Uslan
Jon Peters
Benjamin Melniker
Peter Guber

Distributor:
Warner Bros