CINEMATIC VENGEANCE! 8 Kung Fu Classics From Director Joseph Kuo
Click to read: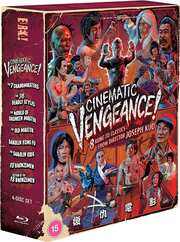 (Limited Edition Box Set – 2000 copies)
Certificate: 15
Running Time: 723 mins
Retail Price: £59.99
Release Date: 2021
Content Type: Movie
Synopsis:
Although his name may not be as instantly recognisable as some of his contemporaries, Joseph Kuo was an incredibly successful filmmaker who consistently produced crowd-pleasing spectacles always in line with what audiences at the time wanted to see.

Often handling writing, directing, and producing duties, the success of this multi-hyphenate filmmaker is even more remarkable considering that the majority of his films were produced independently, at a time when the kung-fu genre was dominated by the big Hong Kong studios. Cinematic Vengeance! collects eight of these independent productions, all fully restored and making their worldwide debuts on Blu-ray.
Special Features:
Limited Edition Hardbound Case featuring newly commissioned artwork by Darren Wheeling

Limited Edition 60 page booklet featuring new writing on the films included in the set by James Oliver, illustrated with archival imagery and materials

Limited Edition set of 8 facsimile lobby cards


Disc 1 and 2 - Includes The 7 Grandmasters, The 36 Deadly Styles, The World of Drunken Master, and The Old Master
Disc 1 and 2 - Brand new audio commentaries on The 7 Grandmasters and The World of Drunken Master with Asian film expert Frank Djeng and martial artist / filmmaker Michael Worth
Disc 1 and 2 - Brand new audio commentaries on The 36 Deadly Styles and The Old Master with action cinema experts Mike Leeder and Arne Venema

Discs 3 and 4 - Includes Shaolin Kung Fu, The Shaolin Kids, 18 Bronzemen, and Return of the 18 Bronzemen
Discs 3 and 4- Brand new audio commentaries on 18 Bronzemen and Return of the 18 Bronzemen with Asian film expert Frank Djeng and film writer John Charles (The Hong Kong Filmography, 1977–1997)
Discs 3 and 4 - Brand new audio commentaries on Shaolin Kung Fu and The Shaolin Kids with action cinema experts Mike Leeder and Arne Venema
Discs 3 and 4 - 18 Bronzemen: The Hong Kong Version – a reconstruction of the original theatrical release version of 18 Bronzemen

Video Tracks:
2.35:1 widescreen 1080p

Audio Tracks:
PCM 1.0 Mono English
PCM 1.0 Mono Cantonese
PCM 1.0 Mono Mandarin

Subtitle Tracks:
English

Directed By:
Joseph Kuo

Written By:
Joseph Kuo
Da-Wei Kuo
Ching Kang Yao
On Szeto
Tse Hsiao

Starring:
Yi-Min Li
Jack Long
Kuan-Wu Lung
Nancy Yen
Jang-Lee Hwang
Jeanie Chang
Lik Cheung
Tse Lin Yang
Mei Sheng Fan
Lau Chan
Jim-Yuen Yu
Bill Louie
Siu-nam Ng
Hou-Chiang Chi
Starr Hester
Nancy
Sung-Hao Hsu
Wen-Jui Hsu
Chiang-Lung Wen
Hung Yi
Ping Lu
Shan-shan Yang
Yuan Yi
Chiu-Ming Chen
Polly Ling-Feng Shang-Kuan
Peng Tien
Carter Wong
Cheung Yeh
Kang Chin
Nan Chiang
Hsiang-Ting Ko
Shen Yuen

Music From:
Fu-Liang Chou
Lawrence Chan

Director of Photography:
Kuo-Ren Wu
Chien Liang
Jorgen Wedseltoft
Chen Tung
Yung-Hsuan Cheng

Editor:
Chiu-Kuei Huang
Wing-Chan Leung

Costume Designer:
Yan-Li Chang

Producer:
Joseph Kuo

Distributor:
Eureka Entertainment