Evolution
Click to read: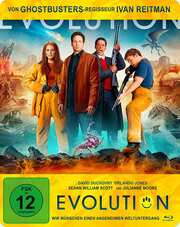 Have a nice end of the world
Certificate: 12
Running Time: 102 mins
Retail Price: €24.99
Release Date: 2021
Content Type: Movie
Synopsis:
The director of Ghostbusters takes you on an evolutionary roller coaster ride with big laughs and even bigger special effects in `Evolution`.
College teachers Ira Kane (Duchovny) and Harry Block (Jones) are inadvertently called to the site of a meteorite crash where they discover a variety of single-celled alien life forms. Government scientist Allison Reed (Moore) gets involved and goes head to head with the local scientific duo. But when the alien cells begin evolving at an alarming rate and the monstrous creatures they become threaten the future of the human race, they find themselves playing on the same team. It`s Darwin`s biggest nightmare and survival of the fittest in the funniest, wildest comedy of the year!
Special Features:
Making of Featurette
Audio Commentary
Deleted Scenes
Visual Effects
Storyboards
Trailers

Video Tracks:
1.78:1 widescreen 1080p

Audio Tracks:
DTS-HD MA 5.1 Surround English
DTS-HD MA 5.1 Surround German

Subtitle Tracks:
German
English

Directed By:
Ivan Reitman

Written By:
David Weissman
David Diamond
Don Jakoby

Starring:
Michael Bower
Ethan Suplee
Ted Levine
Seann William Scott
Julianne Moore
Orlando Jones
David Duchovny

Casting By:
Margery Simkin

Soundtrack By:
James McKee Smith
John Powell
Gavin Greenaway

Director of Photography:
Michael Chapman

Editor:
Sheldon Kahn
Wendy Greene Bricmont

Costume Designer:
Aggie Guerard Rodgers

Production Designer:
J. Michael Riva

Producer:
Ronell Venter
Ken Schwenker
Ivan Reitman
Joe Medjuck
Sheldon Kahn
Daniel Goldberg
Paul Deason

Executive Producer:
Steven Spielberg
David Rodgers
Tom Pollock
Jeff Apple

Distributor:
Koch Media