Jules Verne's Rocket to the Moon
Click to read: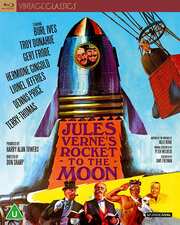 Madcap comedy of the FIRST time they tried to shoot a Rocket to the Moon...in 1875!
Certificate: U
Running Time: 119 mins
Retail Price: £22.99
Release Date: 2021
Content Type: Movie
Synopsis:
A brand new restoration of JULES VERNE'S ROCKET TO THE MOON based on an original work by the great pre-science-fiction author Jules Verne, is a British comedy directed by Don Sharp (Rasputin: The Mad Monk) starring Oscar® winner Burl Ives (Cat On A Hit Tin Roof, The Big Country), Troy Donahue (A Summer Place) and Gert Fröbe (Goldfinger).

Contestants from all over the world compete in a competition to be the first scientist to construct and launch a rocket to the moon. Phineas T. Barnum, the great American showman, comes to England to escape his creditors. Always on the lookout for an opportunity to make money, he enters the competition in an ambitious attempt to launch a rocket to the moon with the aid of a powerful, new explosive. Money troubles, spies and saboteurs ensure that the plan is doomed before it even starts.
Special Features:
- New: Interview with journalist and film historian Matthew Sweet
- New: Interview with journalist and film critic Kim Newman
- On the set of Rocket to the Moon - Silent footage from British Pathé

Video Tracks:
2.35:1 widescreen 1080p

Audio Tracks:
PCM 2.0 English

Subtitle Tracks:
English

Directed By:
Don Sharp

Written By:
Harry Alan Towers
Jules Verne
Dave Freeman

Starring:
Burl Ives
Jimmy Clitheroe
Terry-Thomas
Graham Stark
Gert Fröbe
Lionel Jeffries
Dennis Price
Troy Donahue
Daliah Lavi

Music From:
John Scott

Director of Photography:
Reginald H. Wyer

Editor:
Ann Chegwidden

Costume Designer:
Carl Toms

Producer:
Harry Alan Towers

Distributor:
Studiocanal