Eraser
Click to read: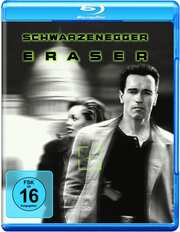 He will erase your past to protect your future
Certificate: 16
Running Time: 115 mins
Retail Price: €10.34
Release Date: 2013
Content Type: Movie
Synopsis:
Arnold Schwarzenegger plays John Kruger, a U.S. Marshal who "erases" the lives and identities of people entering the Witness Protection Program. Kruger must protect an executive (Vanessa Williams) who`s uncovered a deal to put a new superweapon in the wrong hands. It`s a do-or-die assignment. So Kruger makes sure he does in a nonstop action spree that includes plunging from an airplane after his parachute, turning ravenous alligators into instant luggage, outbraining ultratech security and outbrawning killers with hypervelocity weapons.

For power-packed excitement, Eraser is unstoppable.
Special Features:


Video Tracks:
2.40:1 widescreen 1080p

Audio Tracks:
Dolby TrueHD 5.1 Surround English
Dolby Digital 5.1 Surround English
Dolby Digital 5.1 Surround French
Dolby Digital 5.1 Surround German
Dolby Digital 5.1 Surround Italian
Dolby Digital 5.1 Surround Spanish
Dolby Digital 5.1 Surround Portuguese

Subtitle Tracks:
English
French
German
Italian
Spanish
Portuguese
Danish
Finnish
Swedish
Norwegian
Chinese
Korean

Directed By:
Chuck Russell

Written By:
Tony Puryear
Walon Green
Walon Green
Michael S. Chernuchin
Tony Puryear

Starring:
Robert Pastorelli
Vanessa L. Williams
Arnold Schwarzenegger
James Coburn
James Caan

Casting By:
Bonnie Timmermann

Soundtrack By:
Alan Silvestri
Walter Werzowa

Director of Photography:
Adam Greenberg

Editor:
Michael Tronick

Costume Designer:
Richard Bruno

Production Designer:
Bill Kenney

Producer:
Arnold Kopelson
Frank Capra III
Caroline Pham
Anne Kopelson
Stephen Brown

Executive Producer:
Chuck Russell
Michael Tadross

Distributor:
Warner Bros