August: Osage County
Click to read: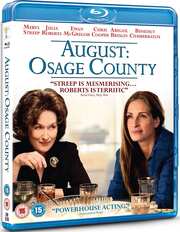 Misery loves family.
Certificate: 15
Running Time: 121 mins
Retail Price: £24.99
Release Date: 2014
Content Type: Movie
Synopsis:
Academy Award-nominated drama directed by John Wells. Members of the Weston family reunite at their family home in Osage County, Oklahoma when their troubled poet father Beverly (Sam Shepard) goes missing. It isn't long before they find that he has commited suicide and the rest of the family then come to pay their last regards at the funeral. Leaving his outspoken and drug-addicted wife Violet (Meryl Streep) behind, the rest of the family feel obligated to stay with her while she grieves for her husband. But living in such close proximity is a test for any grown family, and it isn't long before cracks in their relationships begin to appear. The ensemble cast includes Julia Roberts, Ewan McGregor, Juliette Lewis, Chris Cooper and Benedict Cumberbatch. Both Streep and Roberts received Oscar nominations for their performances in the Best Actress and Best Supporting Actress categories, respectively.
Special Features:
The Making of August: Osage County
Featurette on Writing with Tracy Letts
Deleted Scenes
Feature Commentary

Video Tracks:
2.40:1 widescreen 1080p

Audio Tracks:
DTS-HD MA 5.1 Surround English

Subtitle Tracks:
English

Directed By:
John Wells

Written By:
Tracy Letts

Starring:
Meryl Streep
Julia Roberts
Chris Cooper
Ewan McGregor
Margo Martindale
Sam Shepard
Dermot Mulroney
Julianne Nicholson
Juliette Lewis
Abigail Breslin
Benedict Cumberbatch

Casting By:
Kerry Barden
Paul Schnee

Music From:
Gustavo Santaolalla

Director of Photography:
Adriano Goldman

Editor:
Stephen Mirrione

Costume Designer:
Cindy Evans

Production Designer:
David Gropman

Producer:
George Clooney
Jean Doumanian
Grant Heslov
Steve Traxler

Executive Producer:
Ron Burkle
Celia D. Costas
Jerry Frankel
Claire Rudnick Polstein
Jeffrey Richards
Bob Weinstein
Harvey Weinstein

Distributor:
Entertainment In Video