Melancholic
Click to read: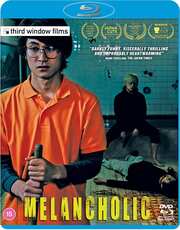 When you apply for a job as a cleaner, you should really ask what you have to clean...
Certificate: 15
Running Time: 114 mins
Retail Price: £19.99
Release Date: 2020
Content Type: Movie
Synopsis:
Despite having graduated from the prestigious Tokyo University, Kazuhiko is unemployed and living with his parents without any plans for the future. Everything changes, however, when he takes up a job at a local bathhouse and discovers that it is used by the yakuza as a convenient place for executions and corpse disposal. Winner of the Best Director Award at the 2018 Tokyo International Film Festival: Japanese Cinema Splash, this auspicious debut from writer/director Seiji Tanaka features an ingenious script full of unexpected shifts in genre and tone, effortlessly swinging between black comedy, coming-of-age romance and crime thriller.
Special Features:
Behind the Scenes
Q&A with director and cast
Melancholic Short Film
Trailer

Video Tracks:
2.35:1 widescreen 1080p

Audio Tracks:
DTS-HD MA 2.0 Stereo Japanese

Subtitle Tracks:
English

Directed By:
Seiji Tanaka

Written By:
Seiji Tanaka

Starring:
Yôji Minagawa
Stefanie Arianne
Makoto Hada
Yasuyuki Hamaya
Yoshitomo Isozaki
Takanori Kamachi
Hiroko Shinkai
Masanobu Yada
Keiji Yamashita
Mebuki Yoshida
Yûta Ôkubo

Director of Photography:
Ryô Takahashi

Editor:
Seiji Tanaka

Producer:
Yôji Minagawa

Distributor:
Third Window Films