Arrival
Click to read: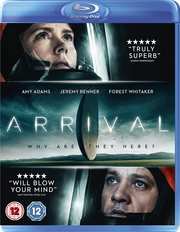 Why are they here?
Certificate: 12
Running Time: 116 mins
Retail Price: £24.99
Release Date: 2017
Content Type: Movie
Synopsis:
Amy Adams, Jeremy Renner and Forest Whitaker star in this sci-fi drama directed by Denis Villeneuve. When mysterious spacecraft touch down across the globe, an elite team – led by expert linguist Louise Banks (Amy Adams) – are brought together to investigate. As mankind teeters on the verge of global war, Banks and the team race against time for answers – and to find them, she will take a chance that could threaten her life, and quite possibly humanity's very existence.
Special Features:
Xenolinguistics: Understanding Arrival
Accoustic Signatures: The Sound Design
Non Linear Thinking: The Editorial Process
Principles of Time, Memory and Language

Video Tracks:
2.40:1 widescreen 1080p

Audio Tracks:
DTS-HD MA 7.1 Surround English
DTS-HD MA 2.0 Stereo English
Dolby Digital 2.0 Stereo English audio descriptive

Subtitle Tracks:
English

Directed By:
Denis Villeneuve

Written By:
Eric Heisserer
Ted Chiang

Starring:
Amy Adams
Jeremy Renner
Forest Whitaker
Michael Stuhlbarg
Mark O'Brien
Tzi Ma

Casting By:
Francine Maisler

Music From:
Jóhann Jóhannsson

Director of Photography:
Bradford Young

Editor:
Joe Walker

Costume Designer:
Renée April

Production Designer:
Patrice Vermette

Producer:
Dan Levine
Shawn Levy
David Linde
Aaron Ryder

Executive Producer:
Dan Cohen
Eric Heisserer
Karen Lunder
Tory Metzger
Milan Popelka
Stan Wlodkowski
Glen Basner

Distributor:
Entertainment One