Pink Films Vol. 1 & 2
Click to read: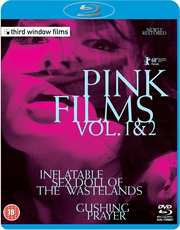 Newly remastered versions of both films
Certificate: 18
Running Time: 160 mins
Retail Price: £19.99
Release Date: 2020
Content Type: Movie
Synopsis:
Atsushi Yamatoya s Inflatable Sex Doll of the Wastelands is a deliciously delirious cult film about a hitman (Yuichi Minato) who is hired by a rich real estate agent to find an abducted woman (Noriko Tatsumi). This simple setup gives way to a hip and chaotic worldview full of hard-boiled characters, sexy action, and hallucinatory imagery. A close collaborator with the likes of Koji Wakamatsu, Yamatoya was part of the group of anonymous writers who worked on Wakamatsu Productions and was also one of the anonymous writers on the script of Seijun Suzuki s Branded to Kill. In his book Behind the Pink Curtain, Jasper Sharp calls the film probably the most idiosyncratic work the genre has ever produced.

The most cryptic and formally radical pink film from the most politically radical director ever to work in the field: GUSHING PRAYER deploys actual suicide notes and a haunting guitar refrain by folk musician Minami Masato to express the spiritual and political left vacuum in the wake of the failed student movements of the 1960s. The cinematography by Itô Hideo, who also shot Ôshima Nagisha's IN THE REALM OF THE SENSES (1976), captures an intriguing melding of the documentary with the cinematic.
Special Features:


Video Tracks:
2.35:1 widescreen 1080p monochrome

Audio Tracks:
DTS-HD MA 2.0 Stereo Japanese

Subtitle Tracks:
English
German

Directed By:
Atsushi Yamatoya
Masao Adachi

Written By:
Atsushi Yamatoya
Masao Adachi

Starring:
Miki Watari
Yûichi Minato
Shôhei Yamamoto
Masayoshi Nogami
Noriko Tatsumi
Mari Nagisa
Aki Sasaki
Hiroshi Saitô
Makiko Kim
Yûji Aoki
Shigenori Noda

Music From:
Yosuke Yamashita
Masato Minami

Director of Photography:
Hajime Kai
Hideo Itô

Editor:
Shôgo Sakurai
Isamu Nakajima

Producer:
Teruo Yamoto

Distributor:
Third Window Films