JoJos Bizarre Adventure Set One: Phantom Blood / Battle Tendency (Eps 1-26)
Click to read: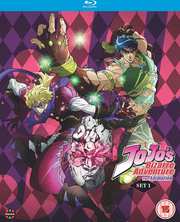 Certificate: 15
Running Time: 650 mins
Retail Price:
Release Date: 13/01/2020
Content Type: TV Series
Synopsis:
In the eternal struggle against evil, the saga of the Joestar family is legend! Based on Hirohiko Arakis groundbreaking manga, JoJos Bizarre Adventure follows the Joestars in a multi-generational battle to the death against the forces of darkness. Set in Victorian England, Phantom Blood chronicles the origin of this tale of hope and slaughter. Jonathan Joestar lives a life of aristocratic privilege until his father takes in an orphaned boy named Dio Brando. Though they are rivals from the first, events turn darker when Dio discovers a mysterious Stone Mask that grants its wearer terrible powerat the cost of a vampiric curse! Jonathan must then realize his own latent powers to defeat his newly immortal brother. Battle Tendency, set decades after Phantom Blood, follows Joseph Joestar, the grandson of Jonathan, after he learns a second Stone Mask has been found in Mexico. It now falls on his broad, muscle-bound shoulders to prevent an ancient evil from rising to conquer the Earth!
Special Features:
Textless Opening and Closing Animations

Video Tracks:
16:9 Colour

Audio Tracks:
Japanese audio with English subtitles and English dub audio

Subtitle Tracks:
English

Directed By:
Naokatsu Tsuda
Ken'ichi Suzuki

Written By:
Hirohiko Araki

Starring:
Unshô Ishizuka
Daisuke Ono
Matthew Mercer

Soundtrack By:
Yûgo Kanno

Music From:
Yes (Roundabout - Theme Song)

Director of Photography:
Kazuhiro Yamada

Editor:
Kiyoshi Hirose

Production Designer:
Shun'ichirô Yoshihara

Producer:
Toshiyasu Hayashi

Distributor:
Manga Entertainment