Code Geass: Lelouch of the Rebellion II - Transgression Collector's Edition
Click to read: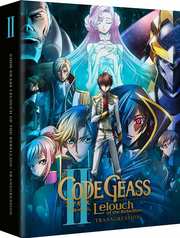 From the studio that brought you Mobile Suit Gundam and Cowboy Bebop
Certificate: 12
Running Time: 133 mins
Retail Price: £34.99
Release Date: 2019
Content Type: Movie
Synopsis:
This updated theatrical presentation of SUNRISE's classic mech-infused series continues with the thrilling second instalment of the saga.

Having racked up numerous miraculous victories against the odds in his quest to end their tyrannical reign across the globe, Lelouch Lamperouge - via his anonymous public persona of Zero - has shocked the empire of Britannia to its core. From humble beginnings, Zero is now the leader of the Black Knights, an increasingly powerful para-military organisation with the equipment and tactical nous to match even Britannia's finest.

However, there are still plenty of hurdles in Lelouch's path... not least close friend turned rival Suzaku Kururugi, whose own abilities also appear to be reaching their zenith. With more unexpected arrivals and appearances as the conflict between Britannia and the Black Knights intensifies, the ability of Lelouch to navigate this increasingly complex game of chess - and the sacrifices he's willing to make - will be tested to the limit."
Special Features:
Comes in a rigid case, with 8 Art Cards and a 34cm x 40cm poster.

Video Tracks:
1.78: widescreen 1080p

Audio Tracks:
Dolby TrueHD 5.1 Surround Japanese

Subtitle Tracks:
English

Directed By:
Goro Taniguchi

Written By:
Ichiro Okouchi
Goro Taniguchi

Starring:
Jun Fukuyama
Takahiro Sakurai
Yukana
Akeno Watanabe
Ami Koshimizu
Fumiko Orikasa
Jouji Nakata
Junko Minagawa
Kaori Nazuka
Kazato Tomizawa
Kazunari Tanaka
Ken Narita
Kikuko Inoue
Masayo Kurata
Mitsuaki Madono
Noriaki Sugiyama
Norihiro Inoue
Omi Minami
Saeko Chiba
Sayaka Ohara
Tetsu Shiratori
Yuuji Takada

Music From:
Hitomi Kuroishi
Kotaro Nakagawa

Editor:
Shinji Morita

Distributor:
All the Anime