Mobile Suit Gundam - Char's Counterattack
Click to read: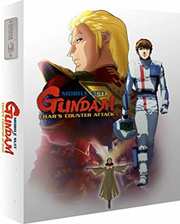 Certificate: PG
Running Time: 119 Minutes
Retail Price:
Release Date: 29/07/2019
Content Type: Movie
Synopsis:
U.C. 0093. 13 years have passed since the events of the original Mobile Suit Gundam. But the foundations of peace are once again threatened by a new Neo Zeon army, led by the infamous Char Aznable! Their ultimate goal is to plunge Earth into a nuclear winter, forcing humanity to emigrate completely into space. Armed with the state-of-the-art Nu Gundam, Amuro Ray and his Federation comrades are all that stand against Neo Zeon. Torn between vengeance, duty, and love - the final battle is at hand!
Special Features:
Collector's packaging
5 Artcards
Poster

Video Tracks:
1.85 : 1 OAR Colour

Audio Tracks:
English and Japanese PCM 2.0

Subtitle Tracks:
English

Directed By:
Yoshiyuki Tomino

Written By:
Yoshiyuki Tomino

Starring:
Tōru Furuya
Shūichi Ikeda
Brad Swaile
Michael Kopsa
Hirotaka Suzuoki
Chris Kalhoon

Soundtrack By:
Shigeaki Saegusa

Director of Photography:
Itta Kobayashi
Atsushi Okui

Production Designer:
Shigemi Ikeda

Visual Effects:
Jun Watanabe

Distributor:
Anime Ltd