Code Geass: Lelouch of the Rebellion I – Initiation Collector's Edition
Click to read: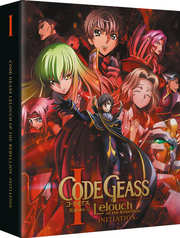 From the studio that brought you Mobile Suit Gundam and Cowboy Bebop
Certificate: 15
Running Time: 135 mins
Retail Price: £34.99
Release Date: 2018
Content Type: Movie
Synopsis:
In a world dominated by the Holy Empire of Britannia, most of the globe has been conquered and forced into submission by this behemoth of a superpower. Japan, now renamed Area 11 after its defeat at the hands of the Empire, continues to harbour pockets of seemingly futile resistance that seems powerless in the face of the might before them. Enter Lelouch Lamperouge, an exiled Britannian prince hidden away under a false name in Area 11 – harbouring a deep hatred for the empire which has forsaken him, he grabs the chance to fight back when a mysterious power known as "Geass" is bestowed upon him, and begins working from the shadows to bring Britannia to its knees as the faceless leader of Area 11's resistance.
Special Features:
Comes in a rigid case, with 8 Art Cards and an A3 poster.

Video Tracks:
1.78: widescreen 1080p

Audio Tracks:
PCM 2.0 Stereo Japanese
DTS-HD MA 5.1 Surround Japanese

Subtitle Tracks:
English

Directed By:
Goro Taniguchi

Written By:
Ichiro Okouchi
Goro Taniguchi

Starring:
Jun Fukuyama
Takahiro Sakurai
Yukana
Akeno Watanabe
Ami Koshimizu
Fumiko Orikasa
Jouji Nakata
Junko Minagawa
Kaori Nazuka
Kazato Tomizawa
Kazunari Tanaka
Ken Narita
Kikuko Inoue
Masayo Kurata
Mitsuaki Madono
Noriaki Sugiyama
Norihiro Inoue
Omi Minami
Saeko Chiba
Sayaka Ohara
Tetsu Shiratori
Yuuji Takada

Music From:
Hitomi Kuroishi
Kotaro Nakagawa

Editor:
Shinji Morita

Distributor:
All the Anime