Battle Royale: Limited Edition
Click to read: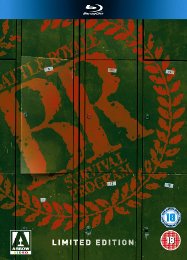 One Dead. 41 To Go.
Certificate: 18
Running Time: 114
Retail Price: £29.99
Release Date: 13/10/2010
Content Type: Movie
Synopsis:
At the dawn of the new millennium, Japan is in a state of near-collapse. Unemployment is at an all-time high, and violence amongst the nation's youth is spiralling out of control. With school children boycotting their lessons and physically abusing their teachers, a beleagured and near-defeated government decides to introduce a radical new measure: the Battle Royale Act.

Overseen by a former teacher, (Takeshi Kitano), and requiring that a randomly chosen school class be taken to a deserted island and forced to fight each other to the death, the Act dictates that only one pupil be allowed to survive the punishment. He or she will return, not as the victor, but as the ultimate proof of the lengths to which the government are prepared to go to curb the tide of juvenile disobediance.
Special Features:
Original Theatrical Trailer
The Making Of Battle Royale: The Experience Of 42 High School Students
Conducting Battle Royale With The Warsaw National Philharmonic Orchestra
Special Edition Trailer
TV Spot: Tarantino Version
Shooting The Special Edition
Takeshi Kitano Interview
The Correct Way To Make Battle Royale [Birthday Version]
Tokyo International Film Festival Presentation
Opening Day At Maru No Uchi Toei Movie Theatre
The Slaughter Of 42 High School Students
Premiere Press Conference
The Correct Way To Fight In Battle Royale
Royale Rehearsals
Masamichi Amano Conducts Battle Royale
Special Effects Comparison
Behind The Scenes Featurette
Filming On Set
TV Spots, Promos And Commercials
Kinji Fukasaku Trailer Reel

32 Page Comic
36 Page Booklet
16 Page Booklet with Concept Artwork And Drawings For The Limited Edition Set
Limited Edition Packaging Numbered #/10,000 With Certificate
5x7" Postcards Of Stills From The Film
Fold-Out Reversible Poster Of Original Artwork

Related Websites:
www.cult-labs.com

Video Tracks:
1080p Widescreen 1.78:1

Audio Tracks:
DTS-HD Master Audio 5.1 Japanese
DTS 2.0 Stereo Japanese

Subtitle Tracks:
English

Directed By:
Kinji Fukasaku

Written By:
Koushun Takami
Kenta Fukasaku

Starring:
Takeshi Kitano
Chiaki Kuriyama
Kou Shibasaki
Masanobu Ando
Taro Yamamoto
Aki Maeda
Tatsuya Fujiwara

Soundtrack By:
Masamichi Amano

Music From:
Johann Sebastian Bach
Giuseppe Verdi
Franz Schubert
Johann Strauß

Director of Photography:
Katsumi Yanagishima

Editor:
Hirohide Abe

Production Designer:
Kyôko Heya

Producer:
Masao Sato
Masumi Okada
Tetsu Kayama
Akio Kamatani

Distributor:
Arrow Video