Terminator Salvation: Director's Cut
Click to read: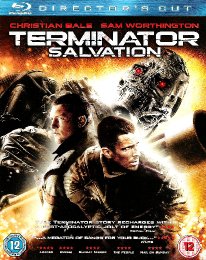 The End Begins
Certificate: 12
Running Time: 118
Retail Price: £24.99
Release Date: 23/11/2009
Content Type: Movie
Synopsis:
In the aftermath of Judgement Day and the takeover by the machines, John Connor (Christian Bale, The Dark Knight), the destined leader of the human resistance, must counterattack Skynet's devastating plan to terminate mankind. As Connor rallies his underground street fighters for a last, desperate battle, he realises that to save the future he must rescue his own father, Kyle Reese (Anton Yelchin, Star Trek). But the most shocking discovery comes with the arrival of Marcus Wright (Sam Worthington, Avatar), a mysterious loner from the past who challenges Connor with an impossible choice that will determine the future of the human race - leading them both on a brutal journey into the very heart of the enemy.
Special Features:
• "Re-Forging the Future" - Go behind the scenes of Terminator Salvation with an exclusive set tour.
• "The Moto-Terminator" - See how the Terminator Salvation visual effects crew and Ducati partnered to create the slick and deadly Moto-Terminator!
• Maximum Movie Mode featuring director McG deconstructing the film's key moments.
• Picture (PiP) commentary with cast and crew interviews, storyboards, still galleries, timeline and more!
• 11 mini featurette focus points spotlighting how the ground-breaking special effects were created!

BD LIVE Content Includes:
• "Resist Or Be Terminated" Tech Com videos (nine viral videos from the theatrical campaign and four new videos from the Home Entertainment campaign)
• "The Final Resistance" video - access the secret plans of Skynet
• CINECHAT - BD-Live technology that lets viewers around the world chat live about this, or any other CINECHAT enabled BD disc, from Sony Pictures International Home Entertainment!
• movieIQ — Fans can immediately access continuously updated information on cast and crew and explore relevant trivia such as production facts, music and soundtrack information all tied to scenes within the movie

Video Tracks:
1080p Widescreen 2.40:1

Audio Tracks:
DTS-HD Master Audio 5.1 English
DTS-HD Master Audio 5.1 Italian
Dolby Digital 5.1 Audio Descriptive

Subtitle Tracks:
Danish
English
Finnish
Hindi
Italian
Norwegian
Swedish

Directed By:
McG

Written By:
John D. Brancato
Michael Ferris

Starring:
Christian Bale
Sam Worthington
Moon Bloodgood
Helena Bonham Carter
Anton Yelchin
Jadagrace
Bryce Dallas Howard
Common
Jane Alexander
Michael Ironside
Ivan G'Vera

Soundtrack By:
Danny Elfman

Music From:
Guns N' Roses

Director of Photography:
Shane Hurlbut

Editor:
Conrad Buff

Costume Designer:
Michael Wilkinson

Production Designer:
Martin Laing

Producer:
Moritz Borman
Jeffrey Silver
Victor Kubicek
Derek Anderson

Executive Producer:
Peter D. Graves
Dan Lin
Jeanne Allgood
Joel B. Michaels
Mario F. Kassar
Andrew G. Vajna

Distributor:
Sony Pictures Home Entertainment