Anime Review Roundup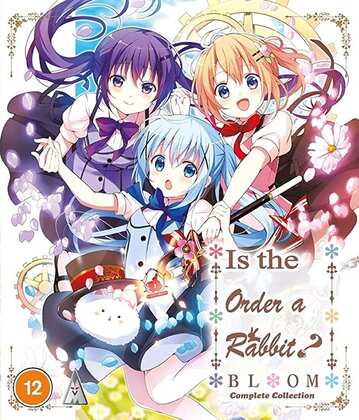 It's hard to come up with something new to write about a show which gets to its third season, and it's even harder when it's a cute girls doing cute things, slice of life light comedy. The temptation is to just say 'more of the same' and be done with it, but
Is the Order a Rabbit? Bloom Season 3
actually is the show at its best. When a show is built around comedy sketches and moments, there is rarely any ongoing narrative to comment on. But this show about cute girls in coffee shops, alongside loads of cute rabbits approaches something akin to a conclusion in this third season, and as a result the emotional engagement with the show is actually amped up.
This Week I've Been Mostly Rewatching...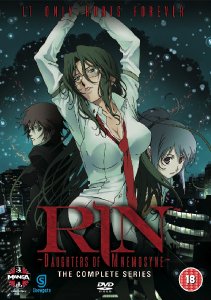 Rin: Daughters of Mnemosyne. This feels like an old school anime. Actually, given that it was made in 2008, and the pace of the anime industry, Rin really is old school at this point, but what I mean is that it feels like the kind of anime that drew me into the hobby to begin with, the kind of shows that made Manga Video big once upon a time. It's a short run series, just six episodes, but six double length episodes just like the Cyberpunk OVAs that I wax nostalgic about. And just like those Manga Video titles, this one is replete with sex, violence and all the swears that you could ever need. It's a tale of immortals, the protagonist an un-aging, and rapidly healing woman who runs a detective agency. But the real mystery comes from the society of immortals that exists in the shadows. This engaging series tells its story over several decades, with the mortal characters aging and living out their lives through the story, while the main character never ages. Rin: Daughters of Mnemosyne is a smart tale that doesn't pander or gravitate towards easy clichés. It's no surprise that it has a bit of a Highlander vibe to it.
It's also no surprise that it's Manga Entertainment that released the show on DVD in the UK in 2010, channelling their earlier incarnation. Alas, we got DVDs that used Australia's Siren Visual masters, and there are one or two issues when it comes to audio and subtitling in a couple of episodes. It is still watchable though, and the show is good enough for you to forgive any flaws.
Here's my review of that release
. Subsequently there was a Region A locked Blu-ray release from Funimation in the US, but we only got the DVDs in the UK. They are well and truly deleted at this point, and you'll have to do some sleuthing to find some new copies, or even second hand copies at this point. It is worth it though.
MVM released Is the Order a Rabbit? Bloom Season 3 on Blu-ray on May 23rd.