Ti West religious cult horror The Sacrament comes to DVD this July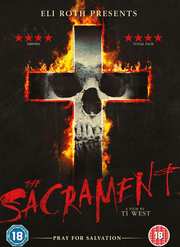 Fancy something a bit creepy but firmly set in the real world without any supernatural shenanigans? Then the
House
label has a new chiller coming out on DVD this 7th July, entitled
The Sacrament
.
Written and directed by Ti West and produced by Eli Roth, this stars Joe Swanberg, AJ Bowen and Kentucker Audley. With a runtime of 100 minutes and a 15 certificate, expect a recommended retail price of around £13.99.
Synopsis and trailer follow...
This follows two ill-fated Vice Media correspondents as they set out to document their friend's journey to find his missing sister. Travelling outside of the United States to an undisclosed location, they are welcomed into the world of remote commune "Eden Parish," a self-sustained rural utopia, comprised of nearly two hundred members.
At the center of this small, religious, socialist community is a mysterious leader known only as "Father." As their friend reunites with his sister, it becomes apparent to the newcomers that this paradise may not be as it seems and underneath the supposed harmony lies a dark and terrifying truth. What started as just another documentary shoot soon becomes a race to escape with their lives.