40th Anniversary release of children's classic Swallows & Amazons comes to Blu-ray and DVD this July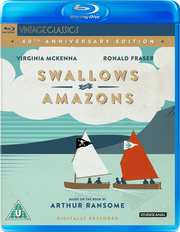 Another part of our childhood is finally making it's way onto Blu-ray, along with a new DVD release, the 40th Anniversary edition of
Swallows & Amazons
is arriving on 14th July, courtesy of
StudioCanal
.
Based on the children's novel by Arthur Ransome, adapted by David Wood and directed by Claude Whatham, this stars Sophie Neville, Suzanna Hamilton, Virginia McKenna, Ronald Fraser, Stephen Grendon and Simon West.
Arriving in a remastered and restored transfer, extras will include interviews with Neville, Hamilton and McKenna, a locations featurette, behind the scenes footage with commentary, stills gallery and Trailer. Expect a recommended retail price of £17.99 and £22.99 for the standard and HD versions respectively.
Synopsis, but alas not a trailer, follows...
Set in the Lake District in the 1920's, this follows the children whilst on summer holiday with their mother. During this trip the children are given permission to sail Swallow to nearby Wild Cat island to set up camp. However what they don't know is that two rival girls and their boat the Amazon have already claimed the island as their own.
Boasting stunning period detail, this wholesome tale evokes an England of a bygone era where children let their imaginations create their own innocent fun.